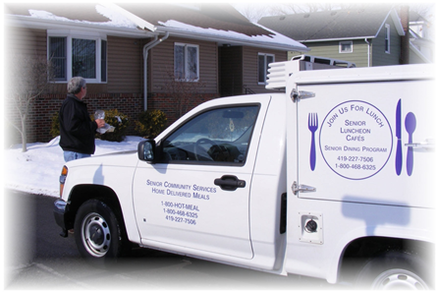 Home Delivered Meals...
We are currently offering home delivered meals available in seven counties: Allen, Auglaize, Hancock, Hardin, Mercer, Putnam and Van Wert. These meals are $6.75 per meal and are nutritionally balanced and low in fat, sugar and sodium. Meal includes the choice of 2% Milk, Skim Milk or Juice.
The details of the program are as follows:
WHO CAN RECEIVE HOME DELIVERED MEALS?
Anyone is eligible to receive these privately paid meals. It could be individuals who are Elderly, Disabled, New Mothers or someone who doesn't want to prepare meals for themselves for any reason.
DELIVERY DAYS:
Hot Meals available Monday, Wednesday and Friday. Frozen meals are available for evenings, non-delivery days and weekends. Subject to change due to inclement weather & holidays. Meals are scheduled to be delivered between 9:30 am and 2:30 pm.
BILLING OPTIONS:
1. Pre Paid
2. Weekly or Monthly Billing
3. Third Party Billing
We accept cash, checks and all Major Credit Cards.
GETTING STARTED IS AS SIMPLE AS:
1. Call the Office 800.520.2905 or 419.453.3327
2. Schedule the delivery days that suit your needs.
3. Select a Billing option.
KEEP IN MIND:
Clients must be home when meal is delivered. Meals cannot be left without the client being present.
Any addition or cancellation of meals must be received in our office by 1:30 pm of the previous business day.
If the above conditions are not followed, the client will still be billed for the scheduled meal delivery.
OPTIONS:
Government assisted programs are available. Please call the office for an assessment of need.
Phone: (419) 453-3327. Email:
catering@locksixteencatering.com